So Celti is swamped and I offered to help out. Here goes a Rainy WTFF for you all to enjoy.
wtf end of the world video right?
***
It seems that Halloween has snuck up on us once again so here are a few thing to help you get through your own.
Let's start with the good ol' Jack-O-Lanterns. Are you getting tired of the same old Jack-O-Lanterns? Maybe you need to take some tips from
this guy
. His efforts make mine seems pretty lame by comparison.
***
If carving isn't your thing then maybe you are looking for some really slick costumes. Then
Mark
is the man you need to talk to about getting all set up.
***
It's okay to let your nerd flag fly.....just don't get caught or you may fall into
Captain Wacky's
clutches.
And for the record, these costumes are both hilarious and just plain wrong at the same time
***
don't click this link
***
What's Halloween good for if not
scary movies right
? Well how about a
morning after the scary movie video
? Talk about parenting in a manner that I can enjoy!
***
Maybe a nice light snack would do you some good. If you've eaten all that Halloween candy you bought early and found it lacking in substance then it's time for you to get some snack building skills from
the Pimp Daddy and his posse
***
If you think you need to get your eyes checked because of the cool animated gifs you see below just make sure you do so before you end up like
this lass here
.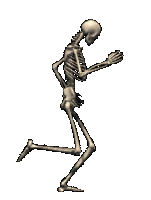 bidet with a twist
!
***
If you're all worried that this strangeness will throw you off then maybe you should just kick back with a nice
butterfly movie
.